Introducing Black Hawk's New Healthy Benefits Dry Dog Food Range
Tailored Nutrition for Specific Needs
Black Hawk is excited to announce the launch of its new Healthy Benefits Dry Dog Food range. Created by our expert team, this latest addition is destined to make a big impact as it not only supports the overall health and well-being of dogs, but targets specific body systems, addressing the major concerns of Australian dog owners. These diets are to be fed to dogs according to their nutritional priorities: Weight Management, Sensitive Skin & Gut, Dental or Joints & Muscles.
True to Black Hawk's history, the range is formulated with high-quality, natural ingredients, with added vitamins and minerals. They cater to a variety of dietary preferences and are unique amongst other adult products by incorporating fresh meat alongside ingredients such as antioxidants, omega-3 and omega-6 fatty acids, green lipped mussel, and pre-probiotics, which work together to promote a healthy immune system, support healthy skin and coat, and aid in digestion.
The Weight Management and Dental products also boast unique kibble shapes and sizes, specific to the benefits they aim to deliver.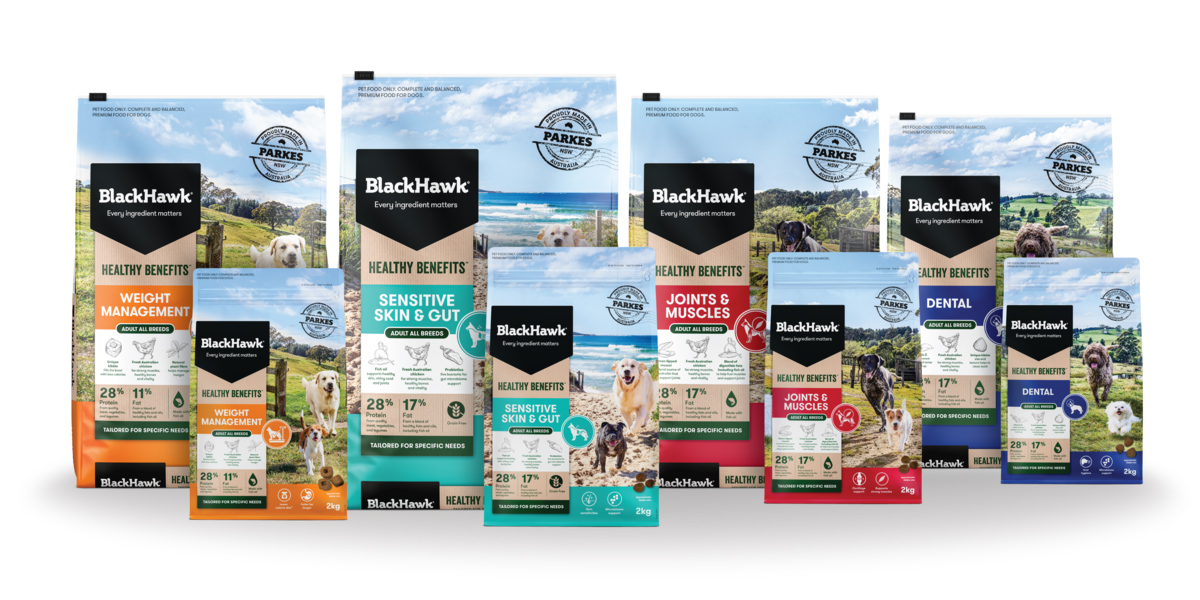 "I'm immensely proud to see all four Healthy Benefits recipes hit the shelves," said Dr Lee Danks BVSc BVMS, Technical Services Veterinarian at Black Hawk.
"We are taking the next big step forward by incorporating the science and know-how that underpins the existing Black Hawk portfolio and becoming more intentional in which health benefits we'd like to see when feeding these new products."
"Being made in regional New South Wales, we're closer than ever to every ingredient, from field to bowl. It's a success story for the whole team and early indicators point to great things for the dogs we're lucky enough to feed."
The Healthy Benefits Dry Dog Food range is available in Weight Management, Sensitive Skin & Gut, Dental and Joints & Muscles, in a variety of bag sizes and can be purchased online or in most Pet Specialty retailers.
View the Black Hawk Healthy Benefits Range